About Tim Crouch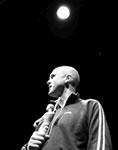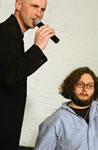 Tim Crouch is a UK theatre artist based in Brighton. He writes plays, performs in them and takes responsibility for their production. He started to make his own work in 2003. Before then he was an actor.
Tim works with a number of associates and collaborators to produce his writing. There isn't a company structure; things and people are brought together when they are needed. The starting process has always been a text written by Crouch. Early work was made in response to a self-generated impulse to tell a story or explore a form. This impulse is still the first motivation but, lately, it's become slightly more formalized through the involvement of various commissioning theatres and organizations.
The organization behind Tim's work is small and responsive. He works alongside an administrative producer, Lisa Wolfe. Lisa also works with theatre artists Sue Maclaine, dancer Liz Aggiss and the disability arts organization Carousel. Tim also works regularly with two co-directors, Karl James and a smith. Karl runs an organization called The Dialogue Project, based in London. a smith is the working name of Andy Smith, a theatre maker, writer and thinker, currently doing a doctorate at Lancaster University. Lisa, Karl and Andy have been a steady presence in Tim's work since the early days.
Organisations that have been involved more deeply in the work – through commission or co-production – include the Royal Court Theatre, the Traverse Theatre in Edinburgh, the British Council, Brighton Festival, Singapore Arts Festival, Culturgest in Lisbon, Warwick Arts Centre, the Royal Shakespeare Company and the National Theatre.
Tim's work tours extensively to UK and international venues and festivals. See Past Touring for details of where the work has been.