About Tim Crouch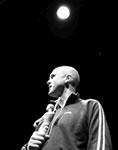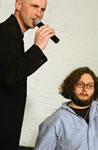 Tim is a playwright, director, performer and theatre maker based in Brighton, UK. He was an actor before he started to write and he still performs in much of his work.
Tim's plays are characterised by an attention to their audience. There is a devotion to the liveness of theatre and a recognition that the audience are the ultimate collaborators in the creation of meaning at the point of performance. The plays are meticulously scripted but engineered in such a way to ensure that no two performances are identical. From the inanimate objects donated by the audience in My Arm, to the unrehearsed second actor in An Oak Tree, to the audience writing in I, Cinna (the poet) and their reading in Total Immediate Collective Imminent Terrestrial Salvation, to the audience embodying otherness in ENGLAND and Truth's a Dog Must to Kennel. Tim's plays are narratively driven but pay as much attention to their form as to their story.
Tim has different tracks of work for young and adult audiences. The tracks converge regularly.
Tim develops ideas and writes on his own, but has been helped to go further in his practice by two important collaborators (and friends) who have worked intermittently with Tim since 2004: Karl James and Andy Smith. Credited as 'co-directors' of many of Tim's plays, Karl and Andy are not 'career directors' in the traditional sense. Andy Smith is a theatre practitioner and an academic at the University of Manchester's Department of Drama. Karl James is founder of The Dialogue Project, working with business and education to facilitate better conversations. As a project starts to gain definition, Tim will often bring Karl and Andy into his reading and thinking, sharing pieces of writing and notes. Led always by the writing, the three then begin a collaboration to best enable a future life for the project as it forms.
There's no 'company' established to support Tim's work. Tim is freelance. His plays are commissioned by theatres and Tim is hugely grateful for their support in enabling his work. Recent commissioning theatres include the National Theatre of Scotland, the Royal Lyceum Theatre, Edinburgh, the National Theatre, the Unicorn Theatre, the Royal Court Theatre and the RSC.
Tim's Wikipedia page https://en.wikipedia.org/wiki/Tim_Crouch
Tim's work tours extensively to UK and international venues and festivals. See Past Touring for details of where the work has been.