An Oak Tree
by Tim Crouch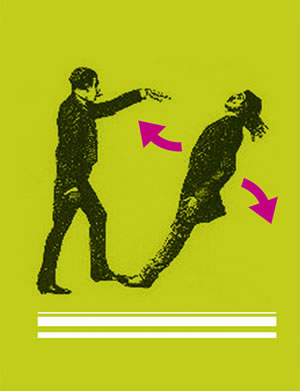 directed by:
Tim Crouch, Karl James and a smith.
sound score created by:
Peter Gill.
performed by:
Tim Crouch with one other actor.
Man turns tree into daughter!
A man loses his daughter to a car. Nothing now is what it is. It's like he's in a play – but he doesn't know the words or the moves. The man who was driving the car is a stage hypnotist. Since the accident, he's lost the power of suggestion. His act's a disaster. For him, everything now is exactly what it is. For the first time since the accident, these two men meet. They meet when the Father volunteers for the Hypnotist's act. And, this time, he really doesn't know the words or the moves…
Writer turns person into character!
An Oak Tree is a two-hander, with the Hypnotist being played by Tim Crouch. The Father, however, is played by a different guest actor at each performance. They walk on stage having neither seen nor read a word of the play they're in… until they're in it. This is a breath-taking projection of a performance, given from one actor to another, from a hypnotist to their subject, from an audience to a person. an oak tree is a bold and absurdly comic new play about loss, suggestion and the power of the mind. It contains a dazzling balance of gripping story, rich theatricality and shocking humour. It is a remarkable sequel to Tim Crouch's first play, My Arm, which was a major hit at the Traverse in 2003 and which has been touring internationally ever since.
success of An Oak Tree
An Oak Tree picked up a Herald Angel when it premiered at the 2005 Edinburgh Festival. The Traverse Theatre run was a sell-out success, and was met with widespread critical acclaim. It has since toured the world. To date, over 250 actors have appeared in the news from nowhere production, including Christopher Eccleston, Mike Myers, Frances McDormand, Roger Lloyd Pack, Joan Allen, F Murray Abraham and Lili Taylor and Toby Jones. And the show has had many eminent audience members, too, including Tarja Halonen, President of Finland, who enjoyed a performance at the Tampere Theatre Festival in August 2006.
In North America, An Oak Tree ran for three months at the Barrow Street Theatre, NYC in 2006/7. It also toured to Wesleyan University, Ct, and Franklin Stage Company, NY. In Canada, Tim has toured the play to Vancouver (PuSh Festival), Calgary (High Performance Rodeo) and Victoria (Intrepid Theatre).
An Oak Tree was awarded a Special Citation Obie award following its New York run at Barrow Street Theater. Tim Crouch won the 2006 Brighton Festival Best Male Actor Award for his performance in An Oak Tree.
It broke box office records during its run at Soho Theatre, London. Second actors included Sophie Okonedo, David Harewood, Linda Bassett, Saskia Reeves, David Morrissey, Juliet Aubrey, Gina McKee and Kwame Kwei-Armah.
future plans
In 2008 An Oak Tree played at the Carrefour International de Theatre, Quebec, and at the Esplanade, Singapore. In 2009, An Oak Tree, My Arm and ENGLAND were presented at the Hong Kong Arts Festival.