ENGLAND: Technical Specification
Tim Crouch's shows present few technical challenges for venues. The requirements are slight, but precise…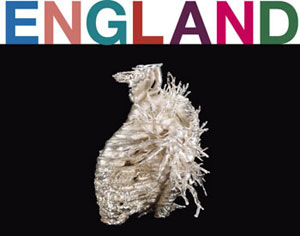 Duration
60 minutes, no interval.
---
Company on Road
Three – two actors, one technical operator.
---
Playing Area (minimum)
Two rooms within a solo or group show in an art gallery.
The audience stands for Act One. (a couple of seats should be available for those unable to stand)
Chairs or bench seating in the second space for Act Two, for all audience.
---
Notes
ENGLAND is technically very simple. All it needs is a good sound setup as outlined on the right.
The script is reworked to reference the space and the work for each venue.
Set
There are no set requirements for ENGLAND.
---
Lighting Requirements
The show is performed in the gallery's own lighting.
---
Sound Requirements
We ask each venue to supply the following:
Two power supplies for the computer (lap-top provided by

news from nowhere

) and our audio interface in the gallery
Four speakers on stands (300w)
Four separate channels of (ideally balanced) amplification (either two stereo amps or one quad amp)
ALTERNATIVELY (and preferably) we can use four active monitors each with its own built in amplifier.
A 4xbus mixing desk with at least four input channels and four separate assignable outputs
Cabling to reach to each speaker from each amplifier channel output
Cabling (ideally balanced) from each of the four desk outputs to each of the four amplifier inputs.
Four cables (ideally balanced) from four no 1/4 inch balanced jack sockets to each of the four inputs on the desk.
One separate speaker, amp and cd player for Act Two
---
Get-in
Access is required for six hours on the night before the performance to set up (or during the day, if a closed day for the gallery).
The gallery needs to be clear of visitors for just half an hour before the performance.
---
Freight
There are no freight implications for ENGLAND.