About My Arm
by Tim Crouch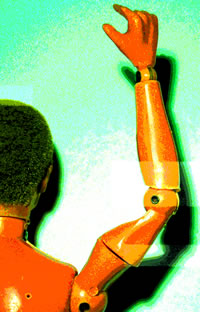 "At the age of 10, for want of anything more meaningful to do, I put my arm above my head and kept it there. Now, thirty years on, I'm so full of meaning it's killing me."
Directed by Tim Crouch with Karl James and Hettie MacDonald.
Video by Chris Dorley Brown.
Performed by Tim Crouch.
My Arm is the story of an empty gesture. It's the confession of a man who has lived for thirty years by the courage of his lack of conviction. In that process he's become a celebrated medical specimen and an icon of the New York art scene.
His story is told through a combination of live performance, digital film and the animation of everyday objects supplied by the audience before each performance. Above all, My Arm is an extraordinary piece of theatre about modern art, bloody-mindedness and how the things we do when we're ten stick with us for life. It's beautifully written: simple, honest, intimate and painfully funny.
my arm opened to universal acclaim at the Traverse Theatre during the Edinburgh Festival 2003. Since then it has toured the world, both independently and with the British Council.
In North America, My Arm has played at 59E59 Theatres as part of the Brits Off Broadway Festival, 2004, and at The Public during the Under The Radar Festival, 2006. It has been performed at the Andy Warhol Museum, Pittsburgh. In Canada, it has played in Vancouver, Calgary, Toronto and Victoria.
In 2008, It visited the Franklin Stage Company in upstate New York and the show continues to tour into 2009/2010, including a visit to the Hong Kong Arts Festival.
The BBC Radio 3 production (directed by Toby Swift with sound by Chris Dorley Brown and performed by Tim Crouch and Owen Crouch) won a 2006 Prix Italia for Best Adaptation in the Radio Drama category.