My Arm: Technical Specification
All news from nowhere's shows present few technical challenges for venues. The requirements are slight, but precise…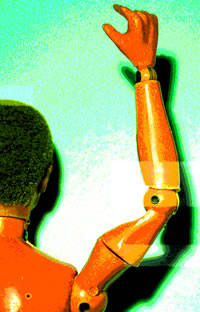 Duration
60 minutes, no interval.
---
Company on Road
One or two. One performer. The venue technician can run this show within an hour of getting to know it, or we can bring our own.
---
Playing Area (minimum)
5m width x 3.5m depth x 4m height (optimum).
My Arm works best in an end-on configuration, with the audience raked up from the performance area.
---
Notes
The simpler the set-up for My Arm, the more effective the play becomes. All the complicated stuff should happen inside the audience's head. Stage artifice should be avoided in order to heighten the fundamental artifice of the script. Cables should not be taped down except where necessary for safety reasons, theatre walls should be left undraped and exposed. my arm comes with its own contained sense of aesthetic which makes it extremely adaptable to different spaces and configurations.
---
Set
The set is to be 'found' at each venue:
a trestle sized

table

an

office chair

on wheels
As large a screen

TV

as possible. It needs a Video phono input to take a feed from the camera (see AV below . It doesn't need to be state of the art – if anything, a slight retro feel is good. But size is important.
In addition, at each venue a screen needs to be constructed or provided to take video projection. The dimensions of this screen will be such to accommodate the largest image produced by the projector in the given space. The screen could form part of the back wall; it could be a cyclorama, or even a pull down screen used for showing film/video. It needs to be white. The ideal is the sense of a large blank canvas, onto which, during the show, three sequences of film are projected.
---
Lighting Requirements
The show needs a simple general cover, which can be pre-rigged. There are approximately eight lighting cues which are either lights on or lights off – no fades.
It is important that there is a complete blackout.
---
AV/Electrical Requirements
A

mini DV camera

. Usually, in Europe, we provide this, but because of issues of PAL/NTSC, North American venues will need to provide. Our model is in the Sony stable of DCR-TRV16E/ TRV18E/ TRV24E/ TRV25E/ TRV27E, etc. It needs a

remote control

, and a

tripod

to stand it on.
A

DVD player

.

A video/data projector

. This will take a feed from a DVD player. It will be hung on a cradle either behind or above the audience. It is possible to back-project on to the screen if there is space enough. The projector needs a shutter that can be controlled by the technical operator.
---
Sound Requirements
My Arm has no specific sound requirements. There is emphatically NO play-in music.
---
Get-in
Access is required from 10am on day of performance.
---
Freight
There are no freight implications for My Arm.