Look out for The Author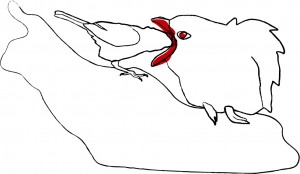 Tim Crouch's play The Author, premiered at the Royal Court Theatre Jerwood Theatre Upstairs in September 2009. It will toured the world into 2011 (see where it went).
I have the choice to continue. I have the choice to stop.
Settle back into the warmth of the Jerwood Theatre Upstairs. Relax as the story unfolds. For you. With you. Of you. A story of hope, violence and exploitation. Laugh with the actors, tap your feet to the music, turn to your neighbour. You're here.
Tim Crouch's new play is about the abuse carried out in the name of the spectator.
'Tim Crouch is a peach of a theatre maker: conceptual without being obscure; experimental without losing the plot, or indeed faith in the power of words to move you.' Time Out
Directors Karl James & a smith
Lighting Matt Drury
Music and Sound Ben Ringham & Max Ringham
Original Cast Tim Crouch, Adrian Howells, Vic Llewellyn, Esther Smith
Cast (from summer 2010)  Tim Crouch, Chris Goode, Vic Llewellyn, Esther Smith
Contains material that may be disturbing. Recommended for ages 18+.